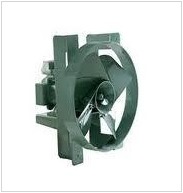 Stainless Steel Exhaust Fan
Product Description
We are well known in the global market for manufacturing and supplying a wide range of portable stainless steel Exhaust Fan. Our product is manufactured under the guidance of skilled professionals by using premium quality components at our state-of-art-infrastructure unit. We provide it to clients after proper checking on the predefined quality parameters and assure them that perfect product is being delivered. This portable stainless steel Exhaust Fan is used to throw air out from the installation area such as washroom and kitchen.
Further Details: We are counted among the leading manufacturers of standard grade Exhaust Fan. Equipped with four blades, this steel fabricated fan is reckoned for its minimize noise level, long service life and high air flow rate. It is perfect for generating large amount of air even under low air pressure level.
Our precisely developed portable stainless steel Exhaust Fan is useful for effective removal of air borne bacteria, smoke, dust and odor. Widely used for improving indoor air quality, this low noise fan has exceptional speed and its exhaustion capacity is beyond any doubt. The high wind flow of this fan easily absorbs bad smell present in air. The housing part of this fan is made of injection molded engineering plastic of durable quality. Equipped with latest ball bearing and cast iron blades, this fan is offered in different specifications like blade angle, pressure range, air flow level and rotational speed. Notable for its simple structure, this fan can be installed quickly. The mechanical shutter of this durable steel Exhaust Fan opens and shuts sans any trouble.
Features:
Widely used for ventilation purpose, this fan is instrumental in driving out contaminated air, odor and dust particles present in indoor air.
Adjustable air flow rate and noise less function are its main attributes.
Easy to maintain
Durable body
High efficiency
Easy installation
Less power consumption
This type of air exhaust system is preferred over its centrifugal counterpart for the below mentioned factors:
Affordable price
This type of fan can be easily installed within limited space.
Customers can obtain this product with square or round shaped flange for its convenient installation on air duct or on wall or on panel.
Small duct size helps to reduce its cost.