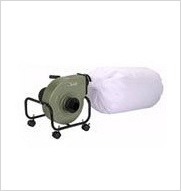 Portable Dust Collection Unit
Product Code : 14
Product Description
Easy to install Portable Dust Collection Unit is used for effective removal of welding dust. The fume extraction arm of this unit has been fabricated from standard grade steel wire and PVC material. This arm can be rotated in specific angular direction for total removal of dust. The damper of this unit is used to adjust its wind flow rate. Back flushing mechanism and mechanical rotational function of this system mechanically cleans the surface of filler core to maintain stability of air flow. Low maintenance cost is one of its main features. We are a successful manufacturer and supplier of standard grade Portable Dust Collection Unit.
Features
All its parts are easy to change and replace.
Equipped with PLC controlled system
Long working life
High performance
We are specialized in manufacturing a range of dust collector units, which are widely used in various industrial processes. Our range of dust collector units are suitable for industries such as sugar, leather, grain handling etc. Fabricated using the premium grade raw material, these are highly durable and light in weight. Easy to install, these units are stringently tested on various quality parameters to ensure better functioning. To cater to the needs of various industries, we also custom design these units as per the details provided by the clients.